If you have a business website but aren't generating the kind of traffic you hoped for, you might feel like you wasted your time having a website built in the first place.
Your main problem very likely lies in your Google search ranking. If potential customers can't find you when they search for businesses in your industry and location, you're missing out on their business -- every time.
But if your website enjoys a comfortable seat near the top of Google search, you'll generate a vastly higher number of clicks.
So, do you want to improve your business website's Google search ranking? Today, we'll explore the importance of high rankings, and how you can find your website at the very top of search engine results.
Why Should You Care?
If you own or manage a small business, you might think to yourself: It doesn't really matter where I show up on Google search. After all, most of my customers come to me through word of mouth advertising!
While it may be true that you've done great business over the years based solely on the quality of your products or services, you could be doing far better business by showing up at the top of your potential customers' search engine results.
According to recent studies, around 93 percent of all buying decisions start with an online search. And if you want those searches to end up at your business website, you should absolutely care about your position on Google and other search engines.
What's Your SERP?
Your SERP (search engine results page) rating is the page on which your website shows up on a Google search. The higher the quality of your website and its SEO copywriting, the better your SERP will be.
If your business website shows up on the front page of Google -- fantastic!
However, that still only places you in the top ten. And according to new findings from online ad network Chitika, the website that appears at the very top of the page (in the #1 spot) receives a whopping 33 percent of search traffic. The second spot gets around 17.6 percent, and third place gets 11.4 percent.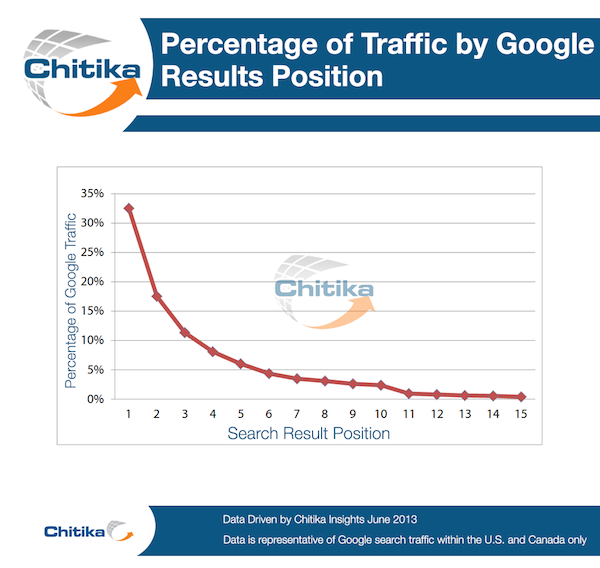 From there, the percentages are all in the single digits. That's a fairly steep decline -- and if you're a few pages back, you might not be getting any of that click-through traffic.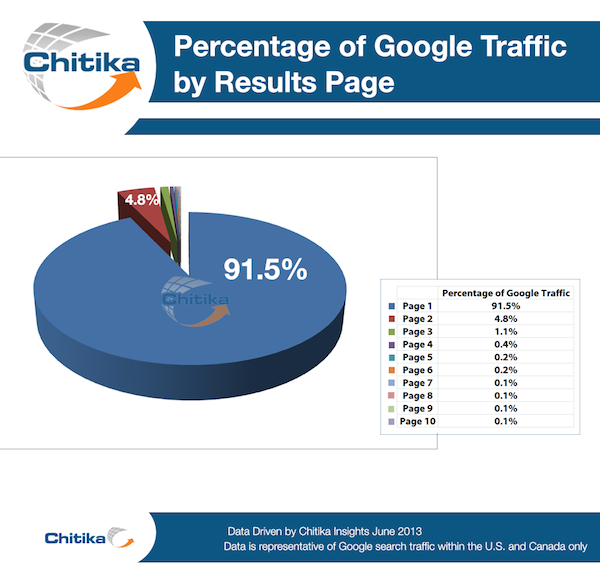 How to Improve Your Search Engine Ranking
1. Build a Better Website
Put simply, Google and other search engines prefer to show off websites that are professionally crafted. That's why when you search for businesses in your industry, you'll rarely find websites created from templates or by amateurs who obviously didn't know what they were doing.
Every element of your website should be fully functional. That means you need depth: multiple pages, all working exactly as they should. Google will do the rest.
2. Populate Your Website with Better SEO Content
Once you know your site functions beautifully after it's been handled by expert designers, you can start optimizing your website with content. Quality copywriting with headers and subheaders specifically tuned for SEO get the attention of Google every time.
That means you need relevant, useful information about your products, services, and your industry. By positioning yourself as an expert on your business and businesses like you, you'll show up higher than ever on search engine results pages and get more traffic.
3. Be Local
If you feel like you can't compete with major national companies that generate millions of dollars in revenue every year, don't sweat.
The simple solution to competing with big businesses is to think locally. When you populate your website with content, make sure you frequently mention the locations you serve. Highlight those specific areas with location pages of their own, and regularly mention those areas in the content elsewhere.
That way, if your potential local customers search for "_____ services in my area," they'll see your website at the top of the page.
Start Now
Are you tired of finding your business website on page 3, page 5, or even deeper down in search engine results?
If so, you could use the help of a team of expert web designers and content wizards to get your website into competitive form. Contact GroupM7 today to learn how you can get your website to the top of Google Search!
---
Aaron Dunn

Aaron is a writer by trade with several years of professional experience under his belt. He holds a Bachelor of Science in Political Science. Before joining the Group, he worked as a freelancer and tech reviewer in Las Vegas, Nevada. Aaron currently lives in Pittsburg, TX.