Clients call us almost every week who have received a letter in the mail from a company called Domain Listings, LLC.
The letter looks exactly like a bill. It lists our client's website domain, an account number, a total amount due, and a due date.
But take this as a warning. Do not send this company any money. They are trying to scam you.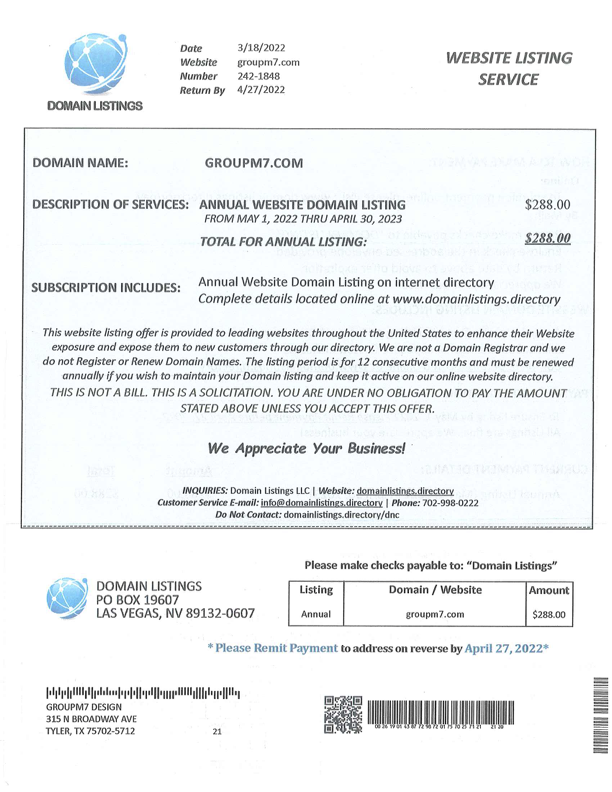 Is Domain Listings A Real Company?
Yes. They are a real company.
They have an LLC, website, contact email, phone number, and a P.O. Box (although, their physical address is not printed on the letter).
Some people believe the "bill" is for a domain renewal. However, the letter does make it clear that they are not a domain registrar.

From the letter above:
"We are not a Domain Registrar and we do not Register or Renew Domain Names."
So what does this company actually do?

The way they say it on the letter is:

"This website listing offer is provided to leading websites throughout the United States to enhance their Website exposure and expose them to new customers through our directory."
In plain English, they put a link to your website on their website. And charge you $288 for it.
Directories are becoming outdated in general. The idea is that a company lists your website on their directory website so that when other people visit their website looking for services you offer, they'll find you.
However, for this company in particular, the only people visiting their website are other business owners who are getting scammed. So you won't get any business from listing your domain in their directory. You'll just lose money.
How To Identify A Scam Like This
Here are 6 ways to determine whether a letter like this is a scam:
1. Go with your gut.
If you get a letter like this and something seems off, it probably is. Perhaps you don't recognize the name of the company as one of your vendors. Or you just paid a similar bill to another company recently who you know is your vendor.
2. Always read the fine print.
Most solicitations like this are technically legal. In order to stay legal, they are required by law to state a disclaimer stating that the letter is not a bill.
Domain Listings, LLC is no exception. You can find their disclaimer italicized in all caps at thee end of the letter:
"THIS IS NOT A BILL. THIS IS A SOLICITATION. YOU ARE UNDER NO OBLIGATION TO PAY THE AMOUNT STATED ABOVE UNLESS YOU ACCEPT THIS OFFER."

3. Google the company's name with the word "scam."
Scams like this are often well documented by many people online who have encountered the same scam. If it's a common scam that has been circulating for a while, you will likely see numerous articles warning others about it.
4. Look them up on the BBB
Not every legitimate company is BBB accredited. However, the BBB does have a complaint section. If you Google the company's name with thee words "bbb complaint" (e.g. "domain listings bbb complaints"), you'll see results like this.
5. Look up the company's reviews
Search for reviews for the company. Here are the reviews on Trustpilot for Domain Listings. Almost all their reviews are one-star reviews with customers warning about the scam.
6. Call your website company.
The company that services your website should be familiar with scams like this and can verify whether your letter is legitimate or not. At GroupM7, our clients know they will not receive a legitimate invoice regarding their website from anyone but us.
How to stop getting letters from Domain Listings, LLC
The letter from Domain Listings, LLC mentions a Do Not Contact webpage where you can enter your information to ensure they don't contact you again. Go to https://domainlistings.directory/dnc/ to opt out.
---
Ken Reid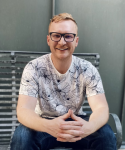 Ken is the Marketing Director at GroupM7. He leads the content strategy for our clients to help grow their businesses.